A question and a challenge for you:
First, the question. According to
wikipedia
, "a School is an institution designed to allow and encourage students ... to learn, under the supervision of teachers." Learning, in my experience, is not usually boring.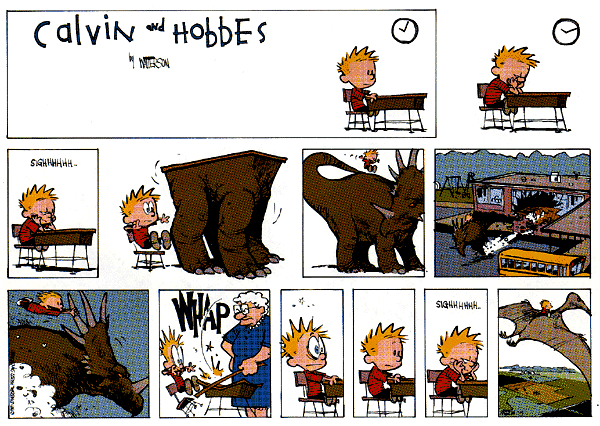 (Click to enlarge.)
So why is it that schools are so boring? According to my friend Calvin, they're not just sometimes dull -- boredom is the dominant emotion associated with school. Why is the one setting designed specifically for intellectual stimulation the setting most strongly associated with flat-out mind-numbingness?
And next, my challenge: what would it take to run a school without boredom?
PS: This C&H strip is linked from
www.s-anand.net/calvinandhobbes.html#19870517
, a site worth having bookmarked. (Is it legal? I have no idea.)
This strip
is also instructive.